KITA worked on the 'New York Brooklyn Test Bed' Project... with 9 Korean startups participating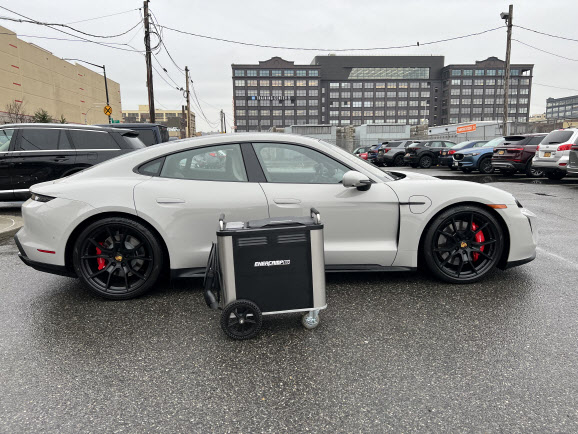 ENERCAMP, a mobile e-vehicle charger company, at its testbed in Brooklyn, New York (Photo by KITA)


Direct product demonstration at four facilities in Brooklyn, New York

6 out of 9 companies were allowed of 'extension of the demonstration period.'

"Securing a technology demonstration opportunity… Strengthening the role of a stepping stone for commercialization."

The Korea International Trade Association (KITA) has supported Korean startups to enter overseas markets through the 'New York Brooklyn Testbed' project, which was conducted in cooperation with the Brooklyn Chamber of Commerce in New York City.
KITA announced on Aug 8th that it conducted the 'New York Brooklyn Testbed' project for nine startups for six months from August last year in collaboration with the R&D Special Zone Promotion Foundation and IBK Corporate Bank.
The project was held at four facilities in Brooklyn, New York, including 'Industry City', a space used as a port and warehouses and has recently been transformed into a multi-facility complex through urban renewal projects and has emerged as a hub for startups. Through the project, nine Korean startups received performance evaluation and feedback through direct product demonstrations in local facilities and stores.
The start-up participated in this project are △ AVIRTUAL (Next-generation air sterilization platform), △ ENERCAMP (Mobile e-vehicle charger), △ MARKETONE (Elevator hologram button), △ Platform Base (Industrial smart lock), △ CHAMGAE Research Institute (automatic entry and exit solution),
△NEWTUER (Cold chain safe sticker), △RESAENG (Food waste biodegradation equipment), △ Needs (Food material management app), and △ ANI (Robot kitchen solution)
Six of them achieved results, such as extending the demonstration period at the request of partners after the end of the business period. Through this, participating companies secured opportunities for technology verification and business network expansion for overseas expansion.
Gun Pil Hwang, CEO of ANI, said, "The US hamburger market is the largest in the world and is a very important market in the food tech business. Through our participation in the testbed project, we secured the opportunity to demonstrate our self-developed AI hamburger cooking robot in the U.S. market and look forward to commercializing it in the future."
Chang Joon Yang, CEO of MARKETONE, said, "By participating in this project, we were able to understand the procedures such as certification and permission, which are essential for entering the local market. Our goal is to demonstrate the technology within the year after obtaining facility certification."
"Through participating in the testbed project, startups were able to gain a lot of results by providing feedback, benchmarking tests, requesting performance evaluations, providing internal resources, and customizing and testing their technologies," said Myung Ja Lee, head of KITA's Digital Innovation Division.
"Brooklyn is a true startup hub of the East Coast, known as 'Silicon Alley' alongside Manhattan in New York City," said Lee, adding, "KITA plans to strengthen its role as a stepping stone for Korean startups looking to expand overseas by providing them with a variety of local technology demonstration opportunities that can lead to commercialization."