Enercamp, Hojeonable, and Remplir Signed a Three-Party MOU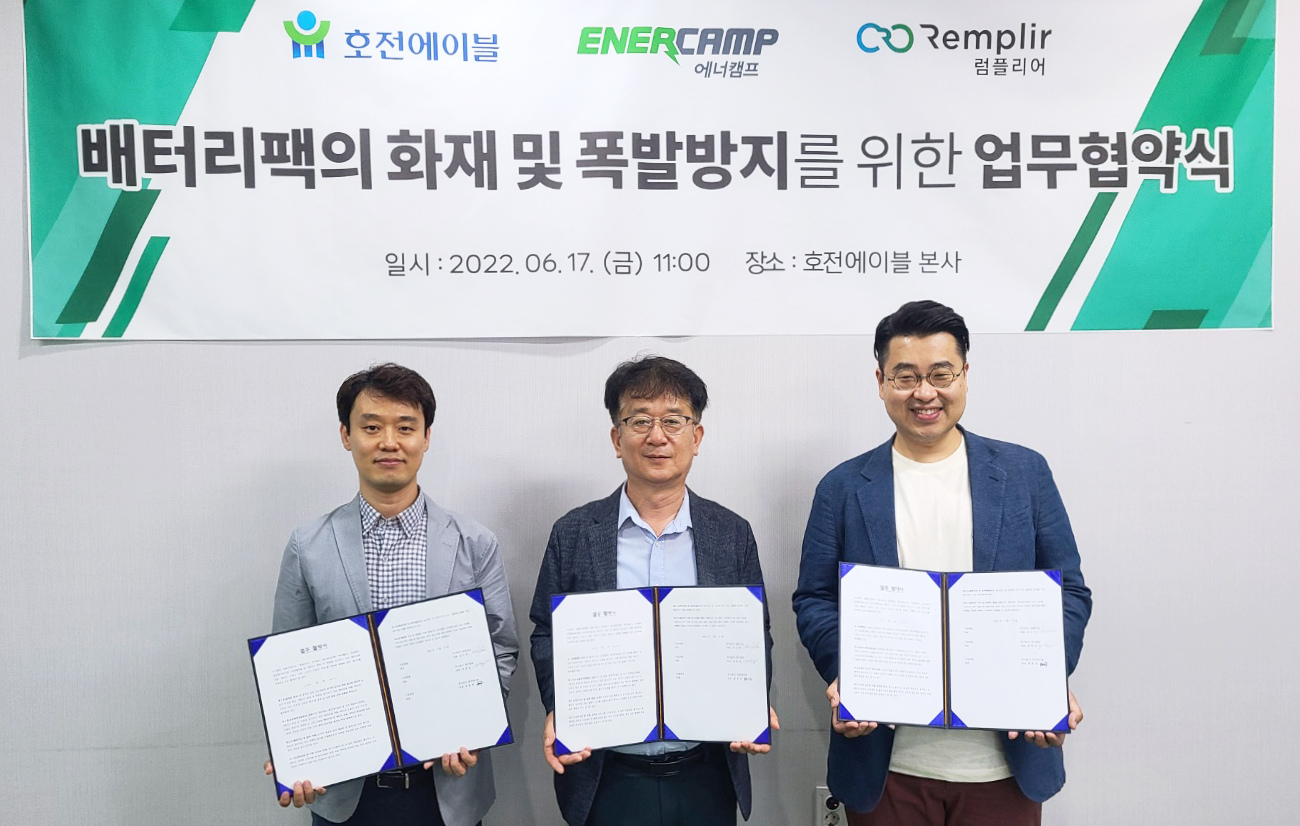 In order to invent a safe battery pack that reduces the potential risks of fires and explosions, a mobile electric vehicle charging company called "Enercamp, Inc.," a package assembling company called "Hojeonable, Inc.," and an energy solution company called "Remplir, Inc." decided to work together.
The CEO of Enercamp, Inc. Jung-sub Choi signed a three-party cooperative business agreement (MOU) with the CEO of Hojeonable, Inc. Jeong-Tae Moon, and the CEO of Remplir, Inc. Sujin Kim.
According to the MOU, these three companies are planning to work together to invent a battery cell that prevents potential fires and battery explosions– they want the internal structure of the battery modules to be more reliable.
The CEO of Enercamp Jung-sub Choi said that "this strategic alliance will allow Hojeonable's patented technology - which effectively extinguishes internal electric spark of the battery module caused by external shocks - and Remplir's lithium iron phosphate battery (LFP) and solid battery development technology to create a fundamental solution to battery explosions and fires. By inventing a safe battery cell that incorporates the techniques and experiences of these three companies, he is optimistic that a new solution can be created to solve the recently emerging fire-related incidents of electric vehicles.
As a company that specializes in assembling packaging materials, Hojeonable plans on inventing internal/external bonding materials that are essential to safe battery pack products. By utilizing its existing organic capsule technology, Hojeonable hopes to create fire extinguishing paste and pad materials that can be used to prevent fires caused by battery packs.
Remplir is a battery supplier for Hyundai Motor company. Not only does it have outstanding material-synthesis technology, material-analysis technology, and lab-scale production standard accreditation, but it is also the only company in Korea that holds iron phosphate battery manufacturing technology and CFx lithium processing/mass-producing technique.
Enercamp is known to be the number one company in Korea for providing car battery chargers and emergency battery packs. By utilizing its module-based battery technology, Enercamp has invented a mobile electric vehicle solution that allows electric cars to be charged with no space restrictions. Such service is currently available at 85 branches of the top five major shared offices and communal spaces, including WeWork and FastFive.