GS ENERGY to support six energy startups with SOLARISE-ENERCAMP-AIMS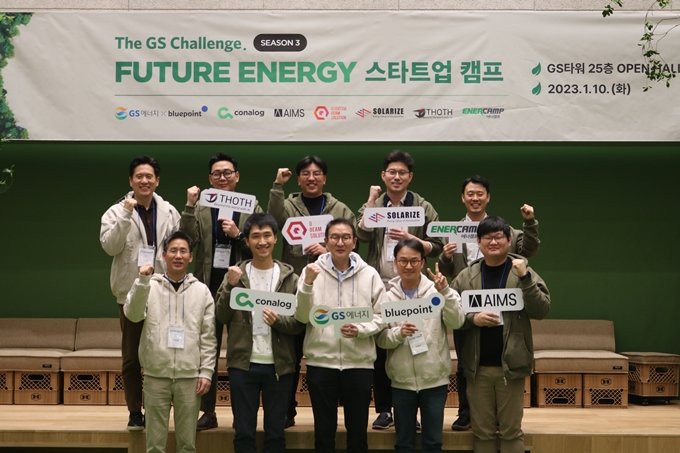 On the 16th, GS ENERGY announced that it had selected six startup teams to participate in the 3rd round of the open innovation program "The GS Challenge. Future Energy" with accelerator BLUE POINT PARTNERS.
'Future Energy' is part of GS Group's open innovation activities to innovate through promising startups. The program focuses on creating sustainable future value through synergy between startups in the energy sector and GS ENERGY.
The selected teams are △ 'SOLARISE' with real-time optimal control of renewable energy resources and development of big data and AI-based smart O&M technology, △ 'ENERCAMP' with on-demand electric vehicle charging solution, △ 'AIMS' with an eco-friendly electric motorcycle battery exchange station construction solution, △ 'KERNEL LOG' with solar power plant digital O&M service using Digital Twin and MLPE, △ QUIBIM Solution founded by a researcher from the Korea Atomic Energy Research Institute and with a neutron non-destructive component inspection solution for the battery recycling industry from, and △ 'TOT' with a robot and AI automation solution for dismantling and diagnosing waste batteries of electric vehicles.
A total of 91 teams applied for the third round, representing a 15-to-1 competitive ratio. The selected teams will receive an intensive five-month acceleration program from GS ENERGY and BLUE POINT PARTNERS.
In addition, they will receive a market fit validation program from BLUE POINT PARTNERS, a proof-of-concept (PoC) from GS ENERGY and affiliate experts, and investment opportunities. Previously, in the 1st and 2nd rounds, the selected teams who won competitions with a competitive rate of 14-to-1 and 9-to-1, respectively, went through an accelerating process and shared their business results on the final demo day.
In particular, SCALAR DATA, a startup selected in the second round, attracted an investment of KRW 3 billion from GS ENERGY through the 'Future Energy program. SCALAR DATA operates an integrated platform for e-vehicle charging infrastructure, 'Charge for All'.
The two companies held a startup camp at GS Tower in Gangnam-gu, Seoul, on the 10th and shared networking with the selected teams in the 3rd round for "Future Energy" and the future schedule of the program. GS ENERGY President Yong Soo Heo attended the event in person and talked casually with the selected teams.
Yong Gun Kim, Vice President of BLUE POINT PARTNERS, said, "Based on the professional capabilities that produced various cases in the 1st and 2nd rounds of the GS Challenge program, we will provide generous support so that the selected teams and GS ENERGY can create a lot of synergy in the 3rd round."
Seung Hoon Lee, Managing Director of GS ENERGY, said, "We want to build a win-win ecosystem by adding the innovative technology of startups and the infrastructure and know-how of large companies."