Enercamp Co., Ltd. offers a 'Visiting Electric Vehicle Charging Service' that eliminates the constraints of time and space typically associated with electric vehicle charging.
The electric vehicle market is rapidly expanding. In 2021, 8.02 million electric vehicles were sold worldwide, which was a 68% increase from the previous year. The share of electric vehicles in total sales also rose from 2.9% in 2020 to 5.9% in 2021, and further to 9.9% in the current year. As a result, there is a growing demand for charging infrastructure. Enercamp Co., Ltd. has been gaining attention from both domestic and overseas markets by overcoming the spatial and temporal limitations of charging, which are the biggest inconveniences of using electric vehicles. The company offers a miniaturized, portable, and replaceable electric vehicle charging service. With the help of the sandbox regulatory exemption, Enercamp is expanding its service base. In addition, Enercamp collaborated with SK Electric Link to showcase Korea's representative electric vehicle charging technology at the 'EV Trend Korea 2023' event held at Coex from March 15-17.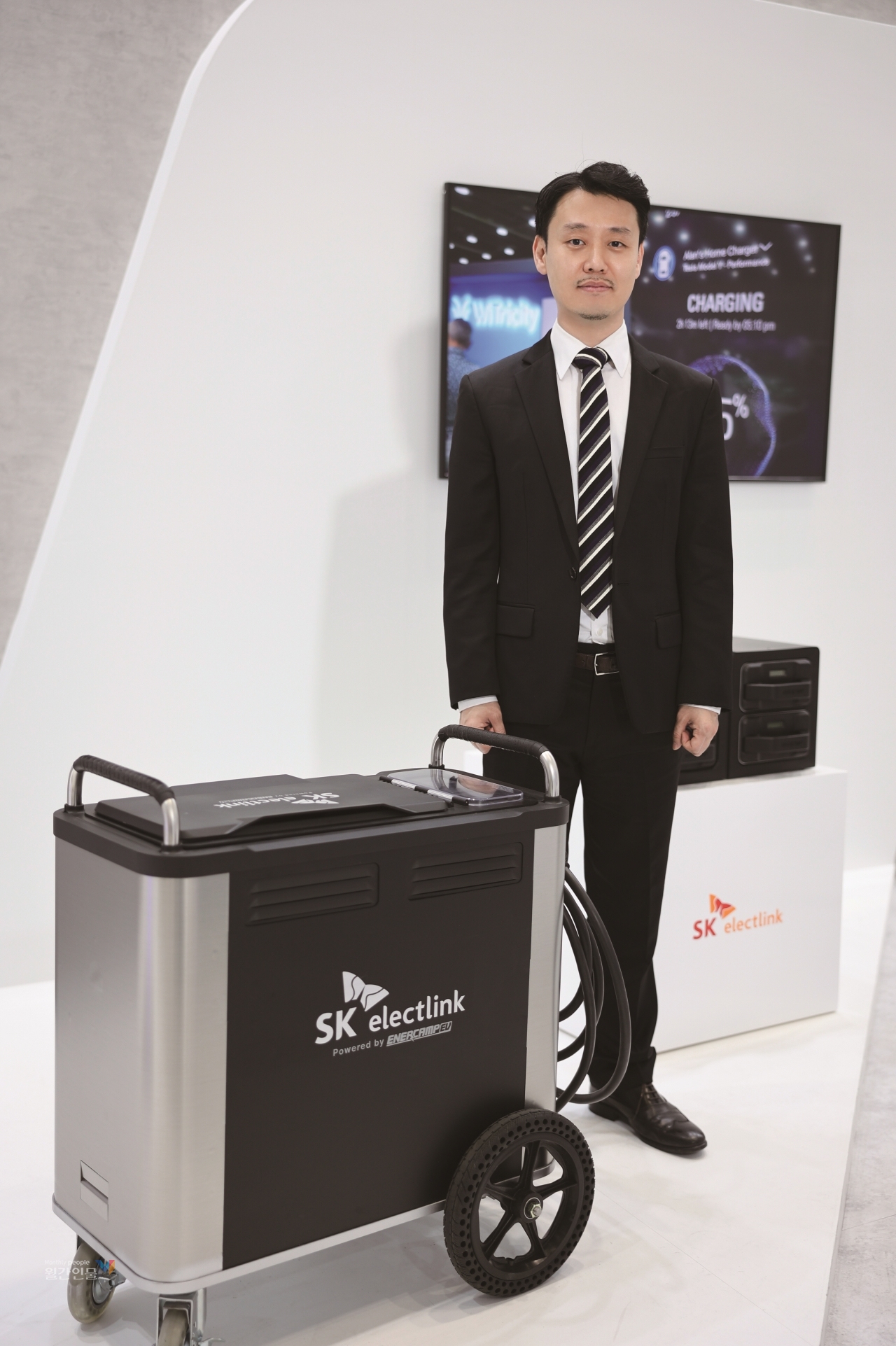 <Jungsub Choi, CEO of Enercamp Co., Ltd. / Photographer Seongrae Park>
Enercamp Co., Ltd., enhances the mobility and safety of electric vehicle batteries.
Enercamp is expanding its market driven by the sandbox regulatory exemption.
Enercamp is a leading mobile electric vehicle charging platform company that has expanded its mobile charging service supply network nationwide, actively promoting its mobile electric vehicle charging agency service. In September of last year, the company obtained regulatory approval for its 'mobile electric vehicle charging service using a power bank' through the sandbox exemption, which made on-demand charging possible. With this approval, electric vehicles can be charged at any desired place and time, beyond the limitations of traditional charging stations. Enercamp provides free, location-based mobile charging service for a specific period of time based on prior application at 85 branches of five major shared offices, including WeWork, Fast Five, and My Workspace. The company is also expanding its service areas by offering visiting emergency charging services.
Enercamp collaborated with the Daegu Public Facilities Management Corporation to provide emergency charging services for electric vehicles throughout Daegu from October 2022 to January 2023. Starting this year, the company plans to introduce various business models, including expanding the application to insurance companies' emergency services and introducing a B2C model where electric vehicle owners can have their vehicles regularly charged for a monthly subscription fee. CEO Choi emphasized that charging facilities are still in short supply despite the rapid increase in the number of electric vehicles, and he added that mobile electric vehicle chargers and charging agency services can be an effective solution to address these issues quickly. From a management perspective, the low initial and maintenance costs of this solution are significant advantages.
Currently, Enercamp's services can be accessed through the Enercamp EV mobile app. Customers can select a charging time and location using the app and leave the charging port open. The customer's request is then received through the cloud server, which matches the customer with a service provider that offers charging services through the M1, a mobile electric vehicle charger. In addition to mobile charging, Enercamp provides services such as vehicle loading, emergency dispatch, and robot-based delivery to cater to both domestic and international environments.
Enercamp's wide range of services is driven by the company's unparalleled technology. Established in 2017, Enercamp holds patents related to high-efficiency energy storage device technology and smart battery charging. The company's expertise in safe and efficient charging services includes high-output battery and safety technology with next-generation features such as fire prevention. Enercamp's power augmentation technology allows for battery-based fast charging by temporarily increasing the output of an existing EV charger through the connection of the power grid of ordinary households to Enercamp EV. The company also offers a replaceable battery solution implemented with a rechargeable battery. Additionally, Enercamp uses real-time on-demand charging matching technology to connect EV users and service providers, including partners and gig workers, for efficient and timely charging services.
"The primary cause of electric vehicle fires is the battery, and to mitigate the possibility of an ESS explosion, Enercamp has adopted a small-scale power bank method to maximize safety. The company aims to rapidly penetrate the market by providing enhanced mobility and safety while minimizing the risks associated with electric vehicles."
'Jump and Go', a bestseller in the Korean and American markets,
has helped the EV charging battery business thrive.
Enercamp started as an energy solution that employed battery modularization technology to store and manage green energy effectively in real-time. One of the company's early products, 'Jump and Go,' was a portable emergency starter that used a hand-sized battery to start an internal combustion engine vehicle in just 10 seconds. It not only ranked first in domestic sales but also became the top-selling product in its category on Amazon in 2018. The success of Jump & Go inspired Enercamp to launch its electric vehicle charging battery business, building on the technological prowess initially developed for the product. Since then, the company has become the leading company in Korea for car battery chargers and emergency charging battery packs.
In 2017, Enercamp introduced the 'Smart Power Bank (Jump Starter)' as an emergency charging solution for internal combustion engine vehicle batteries, the first of its kind in Korea. The product was met with high demand, and all 5,000 units sold out quickly, exceeding the Wadiz crowdfunding goal by 115% the following year. The Smart Power Bank's innovative design also attracted attention overseas, prompting Enercamp to expand its brand and products globally. In 2018, the company sold out 2,000 Jump Starter J20c units (valued at 157,000 USD) prepared for Amazon's 'Deal of the Day.' Building on this success, Enercamp showcased the Power Station E1&E3 (500Wh) prototype at CES 2019, participated in CES Asia 2019, launched the Power Station E1 (500Wh) at CES 2020, participated in CES 2021, and unveiled the ENERCAMP EV M1 prototype at CES 2022.
"Thankfully, the product introduced in the first year of the company's establishment recorded sales of 2 billion Won the following year. Enercamp also opened a shop on Amazon US and set a record by selling an amount equivalent to what would typically sell in two months in just one day. This market response has bolstered the company's confidence in overseas markets, leading to more aggressive business strategies."
Enercamp's technological excellence and potential have been recognized through various awards, including the Minister of Science and ICT Award for Research Institute Development Commendation, the Design Innovation Promising Company Award, the 7th Startup NextCon Excellent Pitching Company Award, and the Daegu Techno Park Local Economy Revitalization Award. The company was also selected to participate in the third phase of 'The GS Challenge Future Energy' and has been receiving on-site Accelerating Program support for the past five months. Additionally, Enercamp was chosen as one of the 38 participating companies in the third phase of the 'Route330 ICT Accelerating Project' operated by the Jeju Free International City Development Center (JDC). In September 2021, the company demonstrated its technological prowess by completing a local test of a mobile electric vehicle charger developed in-house on Jeju Island.
"Enercamp's technological prowess and growth were largely due to the strength of my colleagues who believed in me. Fortunately, a professor who had been conducting R&D with me at the company I worked for before starting a business joined Enercamp in the early days of our start-up. The professor's joining was a huge boost for our start-up. Additionally, a Chinese expert with whom we had a relationship for about 10 years joined as the CCO, paving the way for establishing a global supply chain."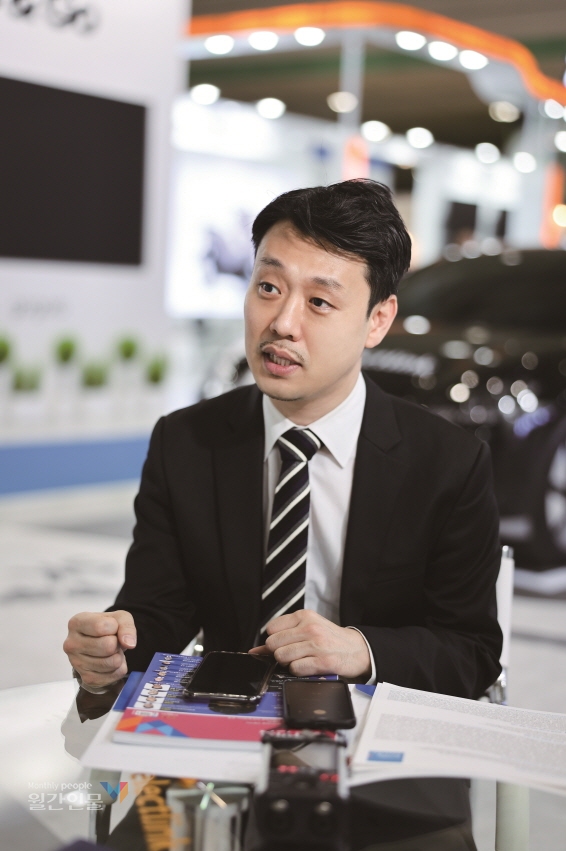 <Jungsub Choi, CEO of Enercamp Co., Ltd. / Photographer Seongrae Park>
Enercamp's differentiation lies in its bottom-up business model,
focused on addressing customer inconveniences and improving the overall user experience.
In just two years, Enercamp has undergone a rapid transformation, shifting its focus from chargers for internal combustion engines and ESSs for camping and home use to electric vehicle chargers. Despite this short period, the company has experienced rapid growth, thanks to its experience and technological prowess. One of the key factors contributing to this growth is Enercamp's original ideas. While other electric vehicle charger companies were focused on fixed charging stations in parking lots, Enercamp recognized the importance of charger mobility. Enercamp understood that increasing parking lots or charging facilities is limited in a narrow country like Korea. The modularization of the chargers allowed for reduced battery size and eliminated space limitations. Furthermore, the compact size of the chargers allowed for installation at just one-tenth of the price of conventional chargers. With sufficient PoC and testing conducted until last year, CEO Choi plans to focus on targeting the Korean, American, and European markets more actively this year.
"The anxiety and discomfort experienced by drivers when charging is the most significant obstacle hindering the widespread adoption of electric vehicles. I considered addressing these problems to be an urgent task, so we developed the mobile electric vehicle charging service. Enercamp's secret to differentiation lies in our bottom-up approach that considers customer inconveniences and how to improve them, instead of a top-down method. By prioritizing these issues and seeking to solve them, Enercamp has set itself apart from other companies in the industry."
Enercamp has been steadily targeting the global market where electric vehicles are gaining popularity at a rapid pace. The company currently has branches in Silicon Valley, USA, and Shenzhen, China, and is promoting its services through collaboration with various business partners, including local shopping malls, telecommunications companies, and shared offices in New York and Silicon Valley. Enercamp has launched a pilot program to showcase their services. In February, the company participated in the 'New York Brooklyn Test Bed' project organized by the Korea International Trade Association (KITA) and the Brooklyn Chamber of Commerce in New York City, USA. This opportunity allowed Enercamp to demonstrate their capabilities, and the six participating companies achieved impressive results. The partners were so satisfied with the results that they requested an extension of the demonstration period, which is a testament to the success of the project. Enercamp is currently discussing a plan with a local company to supply a high-speed charging solution using Enercamp EV in the garages of private households that have difficulty with fast charging. CEO Choi is confident that this mobile charging solution will be a realistic solution for the spread of electric vehicles. While electric vehicles are rapidly gaining popularity in the US and Europe, building a dense charging network is limited by the vast land area. Therefore, Choi presents a blueprint to make Enercamp a global specialist in on-demand EV charging solutions by verifying technology and business feasibility in the US market.
Enercamp is opening an era of convenient and eco-friendly mobility
through its fast and efficient ESS technology, ensuring a clean environment.
Enercamp's ESS (Energy Storage System) technology is poised to lead the way in the future of energy innovation for automobiles, with its fast and efficient charging capabilities. As the consumption of electricity in the electric vehicle charging market has already surpassed 100TWh, CEO Choi envisions a world where everyday users create and share green energy, paving the way for a more convenient and environmentally-friendly future. To further support this vision, Enercamp is focusing on battery recycling, with plans to utilize the specialized infrastructure for recycling batteries in Pohang, Gyeongbuk, in addition to its R&D center in the special zone for wireless charging of electric vehicles in Gyeongsan, Gyeongbuk. These efforts aim to provide on-demand charging services and solutions for the era of autonomous driving.
"I believe every market has its own sequence. Customers may feel uncomfortable when they encounter a large charger they have never used before. Before Enercamp's portable charger was introduced, many seniors took the lead in opening the market. Thanks to their efforts, Enercamp was able to reduce the early difficulties in pioneering new markets. The company plans to continue communicating with companies that preceded it and regulatory authorities to contribute to the creation of a new market."
Regulations ensuring safety are essential for new industries to thrive. CEO Choi acknowledges that many startups face challenges due to the absence of regulations, as laws are often not prepared for emerging technologies or industries. Currently, the US and China are adopting negative regulations to encourage the development of new industries. CEO Choi believes that changing the system to a negative one, like in the United States, is necessary for startups to take on new challenges and innovate. The introduction and implementation of the regulatory sandbox system and active administration are positive signals promoting innovation in Korea, especially in the era of technological hegemony competition worldwide. Enercamp's mobile electric vehicle charging platform is well-positioned to become a global standard in electric vehicle charging, demonstrating Korea's technological capabilities to the world.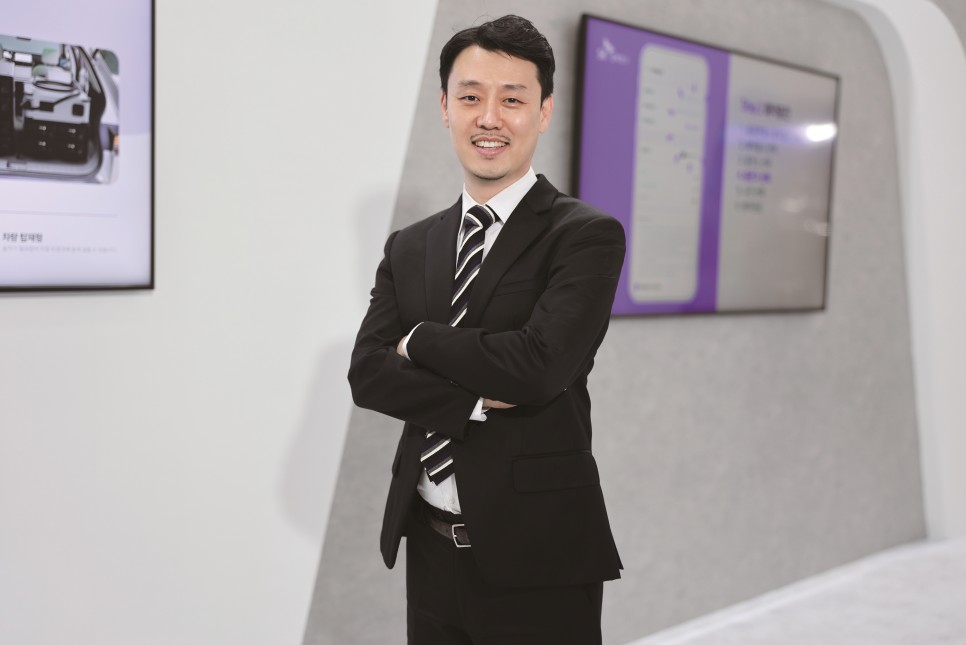 <Jungsub Choi, CEO of Enercamp Co., Ltd. / Photographer Seongrae Park>